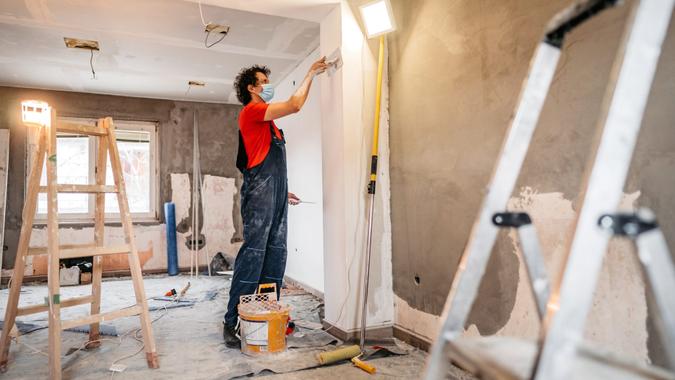 urbazon / iStock.com
Your current home is no longer working for you — at least in its current state. However, you're not sure if you want to sell or stay put and renovate it to perfection.
In May 2022, the median national home price for active listings surged to an all-time high of $447,000 — an annual growth rate of 17.6% — according to Realtor.com. However, HomeAdvisor data revealed renovations and remodels average $47,825, which is also a hefty investment.
Keep Up: Stimulus Updates To Know for Summer 2022
Rising Gas Prices: The True Cost of Going Electric
"Right now, the prices are skyrocketing and will affect both roads — renovating and buying a new home," said Amy Kite, a real estate agent and owner of The Kite Real Estate Team, based in the Chicago area. "You'll have to run some figures and decide what one makes sense for you."
If you're serious about remodeling, she said you'll also need to consider the availability of materials you'll need.
"Construction supplies are limited and you might not be able to purchase the items you want for your reno, even if you go down that road," she said.
However, she said purchasing a new home comes with its own unique challenges — including potentially being outbid in your area — which makes this decision more difficult than it once was.
"You aren't given the luxury to browse a number of homes and have a pick of the one you'd like," she said. "It's a competitive market and you might have to pay more than you'd imagine getting the home you'd like."
Since the market is difficult in many areas right now, she said many people are no longer finding the process of buying a home enjoyable. Therefore, she recommended heavily considering a renovation and approaching it with an open mind.
"You might not get exactly the items you hoped for during your renovation, but with the proper patience and determination, you should be able to properly complete a renovation over time," she said.
On the other hand, Bill Gassett, a realtor with Maximum Exposure Real Estate, based in Hopkinton, Massachusetts, said he often sees homeowners in this situation wanting to add a significant addition that doesn't make sense financially.
"For example, someone that owns a 3 bedroom, 1.5 bath home that wants 4 bedrooms with a master suite and lavish bath will price out the project and realize that adding the current value of their home to the price of what they want to do will put them well above the same home they could get with these things already in place," he said.
POLL: Do You Have a Side Gig or Other Hustle?
This situation screams for them to purchase elsewhere, especially if they can move into a better neighborhood, he said.
"Many times, the current area they live in would not support such a significant remodel," he said. "In essence, they would be pricing themselves out of the neighborhood."
While having the nicest house on the block comes with bragging rights, he said it's not necessarily the savviest financial move.
"Going from being a home that is on par with other homes, to one that is head and shoulders better, is not the best move in real estate," he said. "You always want to have more expensive properties around you that will bring up your value — not the other way around."
Of course, the decision to remodel or sell is rarely cut and dry.
Baron Christopher Hanson, a real estate agent with Coldwell Banker Realty in Stuart, Florida, said you also need to consider the time and surprise expenses that could be involved with either option.
For example, if you remodel, he said you'll want to ask yourself, "Will you be able to live comfortably and on budget whilst your home is being remodeled? Or will you be forced to stay in a hotel or Airbnb for several weeks or months, especially if the kitchen and bathroom and their plumbing are being 100% remodeled?"
He said you'll also want to consider whether your architect, contractors, remodeling materials and appliances will be readily available — exactly as planned — to swiftly complete each phase and job on time and within budget — or if remodeling will require twice the time and triple the money planned?
Conversely, if you opt to find a new home, he said you'll need to take into account the price of finding a better home — along with the stress of time constraints of going under contract with contingency — compared with the expenses and timetables associated with a remodel.
Hanson suggested performing a side-by-side analysis of the short-term costs, time and personal stress required of each person in your household before making a move — or not.
Additionally, he said you'll need to project the longer-term financial implications of each route five or 10 years down the line.
For example, he said to ask yourself, "Will your newly remodeled home increase in value more? Or will the new home you are considering buying and moving to produce a greater return on your time and investment and personal stress instead?"
Taking the time to carefully compare both the short-term and long-term fiscal scenarios of remodeling versus moving isn't easy, but he said doing so is a must.
The decision might be difficult, but as long as you meticulously explore all aspects, you should be able to confidently determine which choice is ultimately best for your finances.
More From GOBankingRates